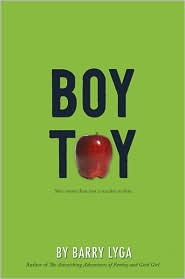 So I am running a contest here. Barry Lyga is running this
fabulous program for bloggers
and I decided to participate. I received my signed copy of Boy Toy last week along with plenty of awesome swag.
First though, let me just mention Barry's contest for the
Goth Girl Rising Trailer
, which looks really fun and interesting!
Now, back to this contest. It won't be your usual "Just leave a comment to be entered!" but it's not going to be anything that can't easily be done. What I want you to do is go check out some other things, comment on those, and then come back here telling me which ones you left a comment on. For every one that you comment on, you get an extra entry.
This will be a bit selfish but also not at the same time (well, for most of them, but for one, it will be selfish). I haven't gotten many comments on some of my 2 year blogiversary posts this month over on Myspace, which yes, is sad for me, but I also feel bad for the authors and bloggers who took the time to answer questions or write a guest blog for me. They aren't getting the comments they deserve. For the last one, I also haven't gotten many comments on my Flip It Friday interview on Sarah Ockler's blog, which makes me sad. So here's a list of links that you can go comment on to receive an extra entry in this contest:
Interviews with Bloggers Khy (Frenetic Reader) and Erika Lynn (Kiss My Book)
Interviews with Authors Robin Palmer and Susane Colasanti
Interview with Blogger Lauren (Shooting Stars Magazine) and Guest Blog from Blogger Harmony (Harmony's Book Reviews)
Interview with Author Julie Linker and Guest Blog from Author Alexa Young
(in this case, there's also a contest you can enter!)
Interview with Moi at Sarah Ockler's Flip It Friday
(be sure to check the other bloggers on Flip It Friday!)
So just to clarify, you can get:
+1 Comment on this entry
+1 for every link above that you comment at (5 maximum)
for a total of 6 entries in this contest!
So once you comment on any of the above, leave a comment here telling me which ones you left a comment on. Also, this should go without saying, but please leave a substantial comment at the blog entries I link to- something more than just "Great interview/guest blog!" Read the interview or guest blog and focus on a part of it to comment on. Otherwise, your comment won't count toward your total number of entries.
This contest will go until Tuesday, June 30 at 8pm EST. The winner will be announced here on July 1. If you have any questions, feel free to email me or leave them in the comments. Hopefully, I covered everything necessary and all that I wrote makes sense, lol.
Side note: I do realize this may be a bit unfair for people who don't have myspace accounts, but this is probably the only time I'll run a contest like this, so for those without myspace accounts, you'll get your chance!
NEW UPDATE:
Unforunately, due to my low funds, I cannot send this to people overseas. This contest is open to US residents only. I'm really sorry to all you overseas people!